Precious jewelry for your wild journey through the universe.
Handcrafted. Meaningful. Sourced with Care.
I make jewelry to help people feel more connected to themselves and the ones they love. Celebrate your unique life story with treasured jewelry and adornments.
connection transformation celebration
Go beyond a traditional baby shower...
New Life Rings help loved ones, near and far, feel connected through the journey of pregnancy and childbirth, while also creating a precious gift for mother and baby to cherish and pass down.
Learn More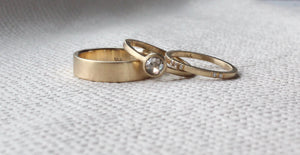 Sustainable Design Ethic
Transparency. Traceability. Respect.
I take tremendous care in maintaining green studio practices and sourcing precious metals and gems from verified ethical sources to minimize my environmental and social footprint.
Read More
Alternative Engagement Rings
Can't find the right ring for your beloved? Let's create something made just for them that suits their unique personality and tells your love story.
Schedule a free consultation
Reimagined Heirlooms
Visit my custom design gallery to get ideas for how you could turn a family jewel that's just collecting dust into a piece you will wear and treasure everyday that you can pass along to the next generation.
View Gallery
Handcrafted With Care
I design and produce my jewelry in small batches with precision and love.  Every piece that comes out of my studio is carefully crafted using age-old goldsmithing techniques, precision tools, and high quality materials.
Meet the maker